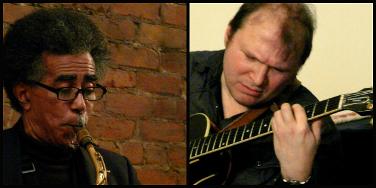 Kurtis Rivers & Alain Pacowski
Sat Sept 26 2015, 8pm
Tix / more info
From the Dorchester Reporter, 8/15/13
From her table in the back corner of Ramsay/Toy VFW Post #8872 on Woodrow Avenue, Post manager Marie Carrington spends Sunday evenings inspired by the sounds of Dorchester saxophonist Kurtis Rivers and his band. Carrington calls this her "Sunday night prayer meeting," and she is looking forward to celebrating six years of Sunday jazz at the Post on August 18.
Carrington was introduced to Rivers by a friend, and her love of jazz and his pursuit of a regular performance venue resulted in a weekly residency that has become a hidden gem in the Boston jazz world.
Originally from South Carolina, Rivers moved to Massachusetts in the 1970s, eventually enrolling at Berklee School of Music in 1979. During and after his time at Berklee, Rivers worked hard in Boston's jazz clubs, playing several nights a week at the legendary Wally's Café in Boston's South End in the mid to late 1980s. In more recent times, Rivers has performed, recorded, and toured with acclaimed Boston jazz groups such as Salim Washington's Roxbury Blues Aesthetic, Russ Gershon's Either/Orchestra, and the Makanda Project.
The Post resulted from a merger of the David F. Ramsay Post and Roxbury's Patrick E. Toy Post— the first exclusively African-American VFW Veteran's post in the United States. It has become an under-the-radar hotspot in a contemporary Boston jazz landscape that is more known for a few Cambridge and South End venues.
Rivers praises Carrington and the Ramsay/Toy Post for creating a space for this uniquely American art form.
"Many venues have come and gone," said Rivers, noting that one place his band used to perform in Roxbury – and where jazz/pop superstar Esperanza Spalding briefly played bass in his band while she was a student in Boston – is now a hair salon. The Woodrow Ave. post is "the only place [in Dorchester and Roxbury] keeping the music alive," says Rivers.
Jazz is a cultural and musical "melting pot," says Carrington, and Rivers' band is an expression of that. He met French guitarist Alain Pacowski, who came to Boston to study at Berklee, at Wally's when they were both regulars there, and the two have become "musical brothers" after decades of playing together, says Pacowski. The band is rounded out by Japanese drummer Miki Matsuki, a fixture of the Boston jazz scene who has played with such luminaries as Wynton Marsalis, George Garzone and Stan Strickland, and busy bassist Paul Dilley. When Dilley's on the road with popular alt-country band Girls Guns and Glory, Melvin Graham often steps in on bass. Trumpet player Michael Maleson is a regular guest.
On a recent Sunday, a parade of other musical friends also sat in, including Rome- based flute and reeds player Henry Cook, Roxbury vocalist Fulani Haynes, saxophonist Cyril Chapman, and Either/Orchestra trumpet stalwart Tom Halter.
"It gets very close to the environment in which Jazz thrived in the 30's or 40's, in clubs where musicians would play nightly for years, and personally get to know the audience," says Pacowski. "It's a casual place where people come to listen to music without feeling restricted like in a concert environment. For us it's a perfect place to feel relaxed, appreciated, and inspired. It's a soulful place where the musicians and the audience evolve together!"
"It's not a fancy place, but it's like my living room," says Carrington of the atmosphere she's cultivated. On occasion, the audience is even treated to a taste of Carrington's cooking at the set break. "No one's a stranger here."