Mandorla Music & Jazz at The Green Room in the news
June 18, 2015. Thanks again to Kevin Lowenthal at the Globe!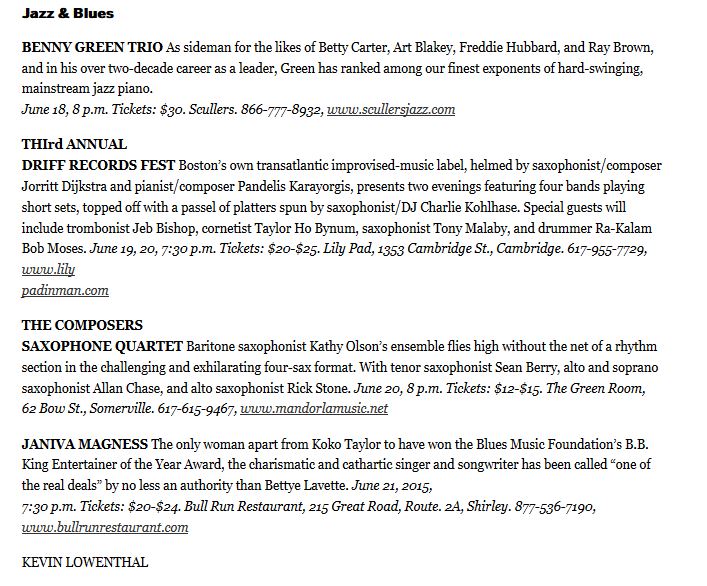 March 11, 2015. Thanks to Kevin Lowenthal for the mention of JATGR #24 with the Russ Gershon Trio in the Globe's 'The Week Ahead' section!
January 8, 2015. Nice mention in the Globe's 'G/Style' section!
September 2014 JazzBoston Newsletter includes a very nice piece from JazzBoston columnist Claire Dickson. It's great to to get some notice from the wonderful organization behind Jazz Week, the Beantown JazzFestival and more.
7/16/14, The Somerville Times. Some really generous ink about the series from Doug Holder, in which I'm likened to a lumberjack. I'm sure it's a compliment, right?

4/16/14, The Somerville Times. Check out Doug Holder's really enjoyable interview with Somerville-based freelance arts journalist Jon Garelick, formerly an editor at the Boston Phoenix. Jon writes for jazz publications like DownBeat and Jazziz, among many other outlets (little places like the Boston globe and the New York Times). In this interview he mentions The Green Room as a spot to see live jazz in the Boston area these days. Thanks Jon!

12/23/13, Somerville Patch. This profile of The Green Room owners Anney & Michael and their vision for the space includes a nice mention of JATGR.