Kurtis Rivers, Alain Pacowski & John Lockwood - Sept 26 2015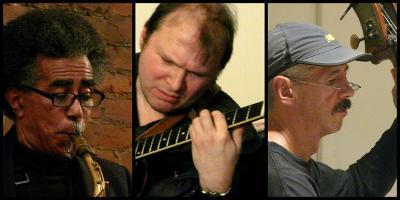 In early 2014, Alain Pacowski played the 2nd show in the Mandorla Music (then Jazz at the Green Room) series, and Kurtis Rivers played 5th. I'm thrilled to have them back, this time together, for #34. This performance will showcase the musical rapport built by Kurtis and Alain since they met playing at Wally's many years ago, and they'll be joined by veteran bassist John Lockwood for an evening of originals and original takes on standards.

Sax player Rivers is well known to careful observers of the Boston jazz scene for his time with Either/Orchestra and Salim Washington's Roxbury Blues Aesthetic, and his current position in the Makanda Project. Guitarist Pacowski splits his time between Boston and New York, and recently released the CD 'Double A' with piano & trumpet player Alan Chaubert. In recent times, Alain played for many years of Sunday nights in Kurtis' quintet at the Ramsay/Toy VFW Post in Dorchester. Bassist Lockwood plays in the Makanda Project with Rivers, and is a member of the Boston free jazz institution The Fringe.

Tickets are already selling for this one, so you'd be wise to act quickly. $12 in advance here, and $15 at the door on the day of the show... if they remain.
Want to know more? Here's an article about Kurtis's longtime musical home base at the VFW in Dorchester. Here's an interview with Alain from Christopher Lydon's radio show Open Source. Listen to tracks from Alain's recent release with trumpeter Alan Chaubert here. And here's a super NPR story in honor of The Fringe's 40th anniversary a couple years back.